Some of Grenada's Finest Dive Sites
If we don't know the dive site ... it probably doesn't exist!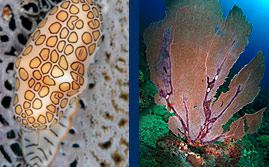 Grenada dive site: Flamingo Bay: 20'- 90'
The reef here is a wall and steep slope down to 90 feet. The slope is encrusted with sea whips and sea fans with sponges adding colour. Fish are attracted to the slope and you will never be short of entertainment. Schools of Creole wrasse are common along with brown chromis, grunts, Glass eye snappers and jacks. Rumor has it that black seahorses have been spotted.
Grenada dive site: Dragon Bay: 25'- 95'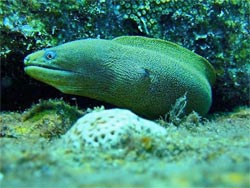 This is a good varied dive with interesting marine life at whichever depth you choose to dive. Sand channels cut into angular volcanic rocks give attractive terrain at shallower depths.
As you drift over the top of the slope, the sight of soft fingers of sea rods and sea plumes lull the senses and create a gentle flowing ambience. Dipping over the reef down the slope, more hard corals emerge and at around 45 feet sprays of black coral add to the scenery. The dark shapes of deep water sea fans create drama and hide lurking groupers. Look carefully and you will see morays' heads poking out of small holes in the rock. Fish life is good, with beautiful angelfish and lots of chromis.
Grenada dive site: Wreck of the Veronica L: 30'- 50'
The Veronica L is a small cargo vessel that sank just outside St. Georges's.
The wreck has been moved close to Boss Reef as the original location gets heavily silted from a nearby river.
There are fish everywhere, big ones, small ones, in schools and solitary. This is a good dive for photographers as there is very little current to contend with.
You can frame schools of fish through sections of the superstructure.

Grenada dive site: Boss Reef: 20'- 80'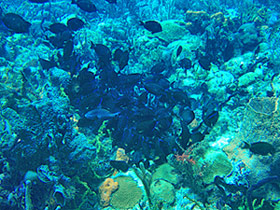 An extensive reef runs for 3 miles from the entrance to St.George's harbour out toward Point Salines.
Three separate dives are done along the reef in depths from 20 to 90 feet. Throughout its length, the reef forms a gentle slope with sand patches and canyons. There are many elements common to all three of the areas dived, for example the profusion of Creole wrasse. There are many differences, too. Most noticeable the transition from mainly hard corals at the eastern of the reef to all fingers of gorgonians at the western end.
Further west the reef begins to show a wider variety of coral, like boulder star and sheet coral along with thickets of staghorn coral. Sea plumes increase in volume, too. Some of the plumes are tall and hide areas of finger and pencil coral. Some of the fish you can see are Creole wrasse, cleaner fish, morays etc.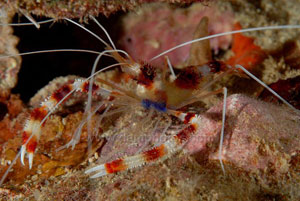 Grenada dive site: Spice Island Reef: 20'- 30'
Not only is it ideal for beginners but it is populated by a wide variety of juvenile fish. The small coral heads offer adequate habitat for juveniles without them having to fight for territory with the adult fish population on the larger reefs. The site is a level sand area edged by a reef of finger corals and brain corals. The relatively shallow water means good light and ample opportunity to make a close observation of the coral. You will be able to see clearly the tiny openings on the coral from which the polyps emerge at night to strain the water for food.
Grenada dive site: Three Part Wreck: 40'
The ship was a large cargo vessel which sank in St. George's harbour and had to be cut up in order to be moved. The wreck was cut into four pieces. The sinking operation did not go exactly to plan as one of the pieces was accidentally dropped at another site (see Quarter Wreck).
Grenada dive site: Quarter Wreck: 35'- 45'
The stern quarter of the wreck lies in shallow water on the edge of Grand Anse reef. This is perhaps the most interesting quarter of the wreck; the propeller, deckhouse and engine can be explored.
Surrounding the wreck is a pleasant reef with some good coral formations. The deeper parts of the reef are in best condition with schools of fish.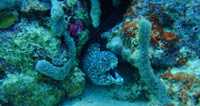 Grenada dive site: Coral Garden: 15' - 40'
Coral Garden starts at a depth of 15' going down as far as 80'. The reef is mainly made up of plate and finger corals and you are very likely to see moray eels, creole wrasse, grunts, snappers, groupers, lobsters and occasional nurse sharks.
Grenada dive site: Canyon: 30' - 70'
A beautiful reef with small caves and an abundance of gorgonians. You can usually see large schools of snappers, grunts and many other reef fish, turtles are usual visitors as well. There is also a small wreck, a yacht, at a depth of about 63'.

Grenada dive site: Windmill Shallows: 60'- 130'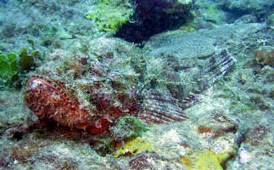 The reef structure is a narrow ridge 30 feet wide, running from 60 feet at the top to 90 feet on the landward side. On the seaward side, the slope drops to 140 feet before turning into a proper wall descending to considerable depth. It's a beautiful reef with an abundance of marine life, both fish and coral. Bright sponges and lush gorgonians dress the slope. Several encrusted Admiralty anchors lie on the slope, one with its chain still attached and leading down the slope. The site is subject to tidal currents bringing bigger fish in to feed and it is not unusual to see rays, turtles, and barracuda even nurse sharks.
King Mitch
A vessel that was once a minesweeper was converted into a cement carrier. It sank in rough seas.

The beautiful eagle ray is one of King Mitch's more famous dwellers.

Grenada dive site: Bianca C Wreck: 90'- 140'
The
'Titanic of the Caribbean
, a 600-foot , 18 000 ton 'Costa' cruise liner that sank on the 22nd October 1961 due to an explosion in the boiler room that started the fire. The 400 passengers and 200 crew were evacuated and the cruise ship was towed out of the harbour to deeper water by the British frigate HMS Londonderry, but a squall swept across the bay and the line parted.
As impressive at the end as she had been afloat, the ship determinedly sank below the waves. Although the ship sank on her keel, she has been slowly sinking in on herself.
The upper decks have compacted, especially toward the stern. About 1994 the rear third of the ship broke off and fell onto its starboard side. This destroyed one of the swimming pools but left the forward pool intact. The funnel has detached and lies on the sand. The Bianca C lies in 90 to 160 feet of water and it is possible to explore right down to the swimming pool, at 130 feet, as a no decompression dive. Most times we take a route from the swimming pool area to the bow before either ascending or swimming across to nearby Whibble Reef to complete the dive in shallower water. Bear in mind that you will only get about 10 minutes on the Bianca C, because of the depth, so be prepared to dive it more than once to have a good look. Because of its depth, it is only practical to dive the bow and part of the mid-section as a no decompression dive.
The ship is encrusted with elegant black coral trees, delicate hydroids and sponges, all of which cope well with the depth, as they require little light . Schools of jacks, barracuda and rays are among the Bianca C's regular visitors. At times there are strong tidal currents, making this an advanced deep dive.

Grenada dive site: Whibble Reef: 60'- 100'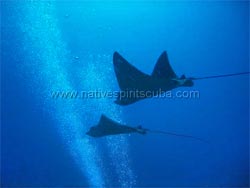 Whibble Reef is dived as a site in its own right and as a shallower second half of a multilevel dive on the Bianca C.
The dive takes you along a sloping sand wall descending sharply to 170 feet. The star boulder and brain coral formations are in good condition, clean and bright, supporting all the normal reef life. The reef has not been over-fished and you will see jacks, groupers, rainbow runners and bluehead and Creole wrasse. This is a site with a good chance of seeing diver's favourites: turtles, eagle rays, and lobsters.
Grenada dive site: Shark Reef: 35'- 70'
Shark Reef appends another dimension to Grenada's diving.
Unlike the sheltered waters of the west coast, the south coast is exposed to the Atlantic, giving rougher sea conditions and strong currents. The result is different sea life. We can 'guarantee' you nurse sharks and most likely you will see turtles, rays, moray eels, lobsters, and conch as well.
Always done as a drift dive, the current can nevertheless be variable in strength.
Grenada dive site: Wreck of the Buccaneer & Moliniere Underwater Sculpture Gallery: 20'- 90'

The Buccaneer, a 42- foot yacht, lying on her starboard side in 90 feet of water, was deliberately sunk as a dive site, while the intention was to place it nearer the reef, it is only a short swim away. Sadly the reef has suffered considerable storm damage in recent years, but you still get to see something, an underwater sculpture park of over fifty five life sized figurative sculptures ranging in depth from 4 to 8 meters; the idea is to turn sculptures into living reefs.
Grenada dive site: Purple Rain Reef: 35'- 100'
The reef is running parallel to the coastline and got its name because of the large schools of Creole wrasse you can find there. There are plenty of other fish living in the reef and you get a very good chance to see some turtles, rays and moray eels.

Grenada dive site: Kahonee: 35'- 50'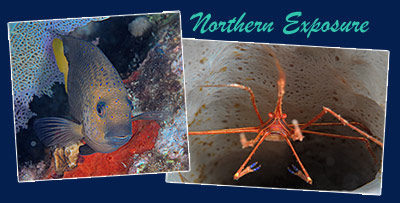 The reef has nice corals, especially fan and sponges. The reef is surrounded by a few sandy channels where you are likely to see stingrays. On the reef you may get to see barracudas, Spanish mackerel, lobsters and even turtles. Most times there is a current, what makes it into a drift dive.
Grenada dive site: Northern Exposure: 30' - 90'
It is a gently sloping reef with sea fans, sea rods and sponges. There is a variety of small reef fish, like blue chromis, goat fish, parrot fish, etc. and you may also see shrimp & crabs.
Grenada dive site: Shakem Wreck: 80'- 92'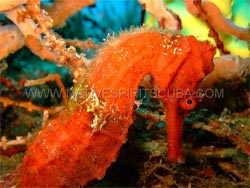 It's a cargo ship that sank in 2001, despite it sinking recently there is already a lot of growth on it. It sank when its cargo, which was cement, shifted as a result of being overloaded, whilst in sight of the harbour. The ship lies upright, with both anchors down, and the anchors chains still connected, you can also see a crane in the centre of the ship.
If you drop onto the stern it is possible to work your way through the cabin decks and down into the lower rooms. On the second deck there is a generator room at the rear, but it is dark down there so a torch is essential. The entrance to the engine room is on the starboard, holding a large engine and some tool kits.
Grenada dive site: Hema 1 Wreck: 100'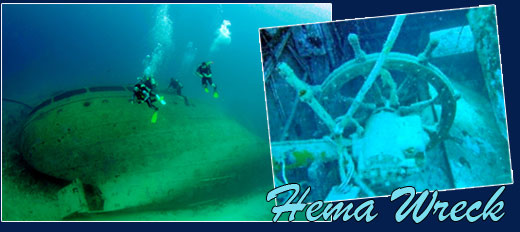 It's a 170 feet long freighter that sank on 5th March 2005 about 3 miles off the south coast of Grenada, after it has offloaded its cargo in St. George's on its way back to Trinidad. Seas were rough and the freighter started to take on water; unfortunately the bilge pump did not work as it supposed to. Grenada Coastguard rescued all crew members, but the ship had to be abandoned. Hema 1 was registered in Kingston, St. Vincent. For several years, the ship served as an inter- island freighter, it was built in 1963 in Germany and delivered as 'Thomas Steven' of Denmark cargo around the Baltic Seas. This wreck is one of the main attractions in Grenada's waters due to its location in the nutrient rich Atlantic current off the south coast.

You get to see reef and nurse sharks, eagle rays, lobsters and turtles.
Grenada dive site: Rum Runner Wreck: 100'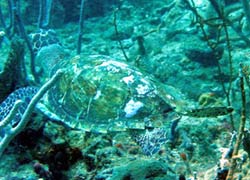 A catamaran, off Point Salines. It's a relaxed dive full of interesting marine life. You drop onto a colourful reef Windmill Shallows, covered with orange Sea Plumes, Stony and Plate Corals. Descend down the reef slope to the Rum Runner. You can slowly explore the catamaran which is encrusted with Sponge and Gorgonian Sea Spray. A lot to discover, such as barracudas, schools of Creole wrasse, Hawksbill turtles, Queen Angelfish, Moray Eels, etc.
Daytrip to Northern Grenada:
Two to three dives close to the uninhabited islands off the north coast of Grenada. Full lunch on a secluded beach included.
Grenada dive site: Face of the devil 40'-100'
A dive site with one of the best visibility year round. Turtles, Reef sharks and many other large pelagic can be seen. The wall is encrusted with many gorgonian, white telesto, and golden sea sprays.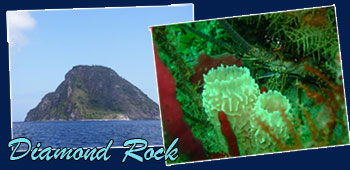 Grenada dive site: The Sisters: 35' - 120'
Dive under the great shelves and coral formations with steep walls, encrusted with the most spectacular coral formations, filled with many different kind of snappers, grunts, black jacks, rays, turtles, sharks, etc.
Grenada dive site: Diamond Rock 20' - 100'
Its steep formation from the bottom of the sea creates an elegant wall that is encrusted with gorgonians, white telestos, eagle rays are a normal site in this area together with sleeping nurse shark in the valleys of the rocks, southern stingrays, large lobsters are common features in that area.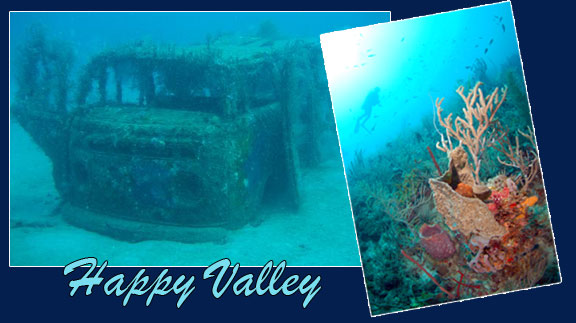 Happy Valley
Happy Valley is a wall sitting at 30' descending to a depth of 120', where a few intentionally sunken cars now sprout an abundance of groupers, sponges and countless snappers of all kinds